胡蜂兽
Waspmon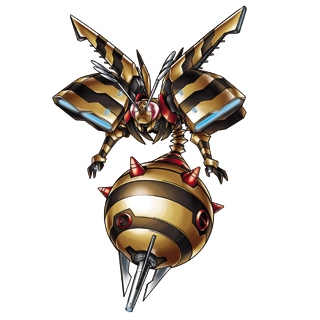 X抗体
| | |
| --- | --- |
| 日本語 | ワスプモン |
| English | Waspmon |
| 简体中文 | 胡蜂兽 |
| 繁體中文 | 雀蜂獸 |
| 한국어 | 말벌몬 |
基本资料
| | |
| --- | --- |
| 等级 | 成熟期 |
| 类型 | 改造型 |
| 属性 | 病毒 |
| 所属 | |
| 适应领域 | ME、WG |
| 首次登场 | 2003年11月21日 液晶玩具 数码兽摇摆机X 3.0 |
| 名字来源 | 英语【Wasp】黄蜂,胡蜂 |
必杀技&得意技
| | | |
| --- | --- | --- |
| 涡轮刺针 | Turbo Stinger | ターボスティンガー |
| 杀破熊 | Bear Buster | ベアバスター |
设定资料
守护神秘的「空中秘蜜基地『皇家基地(Royal Base)』」的改造型数码兽。头部的触角部件索敌能力很强,经常在基地周边巡逻,小心防范靠近基地的数码兽,只要一接近就袭击他们。由于肩部的推进器和背后的稳定器(Stabilizer),可以上下左右前后全方位高速移动,防御接近的敌人,并用强力激光炮驱逐他们。必杀技是连射大口径激光炮的「涡轮刺针」,以及大型数码兽都能一击消灭的「杀破熊」。另外,该技能需要蓄积能量才能放出,因此难以对付敏捷的敌人,主要是对地上的敌人有效。
守衛神秘「空中秘蜜基地『皇家基地』」的改造型數碼寶貝。頭部的觸角部位具有強大索敵能力,經常在基地周邊巡邏以戒備其他數碼寶貝靠近基地,且一旦有人接近就會發動攻擊。肩部的推進器和背部的穩定翼使它們可以朝四面八方快速移動,藉此防禦敵人侵襲並以強力雷射炮將其擊退。必殺技是連續發射大口徑雷射炮的『渦輪螫針』,以及連大型數碼寶貝也能一擊解決的『破熊炮』。但由於這招必須蓄積能量才能發射,所以很難擊中速度快的目標,主要是用來對付地面上的敵人。
謎の"空中秘蜜基地「ローヤルベース」"を守るサイボーグ型デジモン。頭部の触角パーツは索敵能力が高く、基地に近づくデジモンを警戒して常に周辺をパトロールしており、近づくだけで襲い掛かって来る。肩の推進器と背中のスタビライザーにより、上下前後左右と、あらゆる方向に急速に移動が可能で、近づいて来る敵をディフェンスして、強力なレーザー砲で追い払ってしまう。必殺技は大口径のレーザー砲を連射して放つ『ターボスティンガー』と、大型のデジモンをも一撃で仕留めてしまう『ベアバスター{熊蜂より}』。尚、この技はエネルギーを貯めてから放つため、素早い敵には当たり難く、主に地上の敵に対して有効である。
A Cyborg Digimon that protects a mysterious secret honey base in the sky known as the "Royal Base." The antennae on its head is very effective when it comes to finding enemies. It is constantly patrolling the surrounding area, watching out for Digimon that may approach the base. Just getting close to the base is enough to cause this Digimon to attack. It is able to swiftly move in all directions using the propeller on its shoulders and the stabilizer on its back, whether it be up, down, left, or right. This allows it to easily defend itself from enemies and drive them away with a powerful laser cannon. Its special moves are: Turbo Stinger, in which it rapid-fires a wide-ranged laser cannon at its opponents, and Bear Buster, which is capable of taking down even large Digimon with a single blow. Since this move can only be unleashed after charging up enough energy, it is not good at targeting fast enemies. Bear Buster is mainly effective against ground-based enemies.
수수께끼의 '공중 비밀 꿀 기지 "로열 베이스"'를 지키는 사이보그형 디지몬. 머리 부분의 더듬이는 탐색 능력이 뛰어나 기지에 접근하는 디지몬을 위협하고 항상 주변을 감시하며, 다가가기만 해도 공격한다. 어깨의 추진기와 등의 스태빌라이저로 상하, 전후, 좌우의 모든 방향으로 빠르게 이동할 수 있고, 접근하는 적을 방어하며 강력한 레이저포를 쏘아 내쫓는다. 필살기는 대구경의 레이저포를 연속 발사하는 '터보 스팅거'와 대형 디지몬도 한 방에 해치우는 '베어 버스터'. 또한, 이 기술은 에너지를 모아 발사하기 때문에 빠르게 움직이는 적은 맞추기 어려우며, 주로 지상의 적에게 효과적이다.
Ein Androiden-Digimon, das die geheimnisvolle königliche Luftbasis beschützt. Für gewöhnlich patrouilliert es dort und sucht mit den empfindlichen Fühlern an seinem Kopf nach herannahenden Digimon. Es greift jedes Digimon an, das zu nahe kommt. Mit den Schulterpropellern und dem Stabilisator am Rücken bewegt es sich schnell in alle Richtungen. Gegen Feinde setzt es eine starke Laserkanone oder den Spezialmove "Turbostich" ein, bei dem es einen großkalibrigen Laser aktiviert.