熔火波兽
Lavorvomon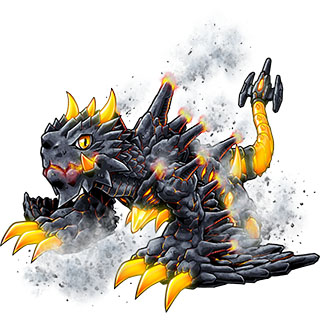 | | |
| --- | --- |
| 日本語 | ラヴォーボモン |
| English | Lavorvomon |
| 简体中文 | 熔火波兽 |
| 繁體中文 | 熔火波獸 |
| 한국어 | 라보보몬 |
基本资料
等级
成熟期
类型
岩龙型
属性
病毒
所属
适应领域
首次登场
2017年7月 手游《数码兽链环》
名字来源
英语【Lava】熔岩; 火山岩
英语【Volcano】火山
日语【ボーボー】形容燃烧的样子
必杀技&得意技
| | | |
| --- | --- | --- |
| 超级烈焰 | Great Flame | グレイトフレイム |
| 熔岩踏灭 | Earth-stamp | アースタンプ |
设定资料
全身由熔岩构成,一边喷出粉尘一边活动的数码兽。虽有翅膀但不擅长飞行,主要匍匐在地面上移动。其匍匐的速度与看上去的笨重相反,非常快,能一瞬间逼近敌人。性格方面对于信任的人会无所顾虑地友好接待对方,不过据说喷出的粉尘具有可燃性,因此被拥抱的对象会害怕爆炸而全力逃走。
必杀技是吸入一大口气最大限度放出火球的「超级烈焰」。以及气势汹汹地压住对手并双手重击的「熔岩踏灭」。
全身由熔岩組成,且活動時身體會噴出粉塵的數碼寶貝。雖然擁有翅膀但不擅長飛行,以在地面上匍匐前進為主要的移動方式。與看起來笨重的外觀相反,它爬行的速度非常快,一瞬間就能逼近敵人。性格友善,會毫不顧慮地接近自己信賴的對象,然而它身上噴出的粉塵具有自燃性,所以被它親近的對象都會因害怕爆炸而全力逃走。
必殺技是深深吸氣然後釋放出極限大火球的『巨大火焰』,以及猛然壓住對手,並以雙手給予重擊的『大地捶擊』。
全身が溶岩でできていて、粉塵を噴出しながら活動するデジモン。翼を持つが飛行は苦手で、主に地面を這いずって移動する。その這いずるスピードは鈍重さな見た目とは裏腹にとても速く、一瞬で敵に詰め寄る。信頼した相手には気兼ねなく接する友好的な性格だが、噴出する粉塵には発火性があるため懐かれた相手は爆発を恐れ全力で逃げるという。
必殺技は、大きく息を吸って最大限の火の玉を放つ『グレイトフレイム』。さらに勢いよく相手にのしかかって両手をバンバン叩く『アースタンプ』。
A Digimon who is active throughout the day even though its entire body is made completely out of lava that constantly spews out dust. Although it has wings, it is not too good at flying and predominantly spends its time crawling on the ground in order to get to its destination. Despite its heavy appearance, it is capable of crawling at high speeds and can instantly close in on an enemy. It is quite friendly and has no hesitations in approaching people it trusts, but they tend to run away in fear of being caught in an explosion because the dust it spews is flammable.
Its special moves are Mighty Flame, in which it fires the largest fireball it can muster up after taking a big deep breath, and Earth Stamp, in which it slams both of its hands together while vigorously lunging forward at its opponent.
전신이 용암으로 이루어져 있고, 분진을 내뿜으며 활동하는 디지몬. 날개는 있지만 비행이 서툴러 주로 지면을 기어서 이동한다. 그 이동 속도는 둔해 보이는 겉모습과는 달리 매우 빨라 순식간에 적에게 다가간다. 신뢰하는 상대에게는 스스럼없이 대하는 우호적인 성격이지만, 분출하는 분진에는 발화성이 있기 때문에 상대는 폭발이 두려워 전력으로 도망친다고 한다.
필살기는 숨을 크게 들이마신 후 최대한 큰 불덩이를 발사하는 '그레이트 플레임'. 아울러 기세 좋게 상대를 짓눌러 양손으로 팡팡 때리는 '어스탬프'.