熔火加里塔兽
Lavogaritamon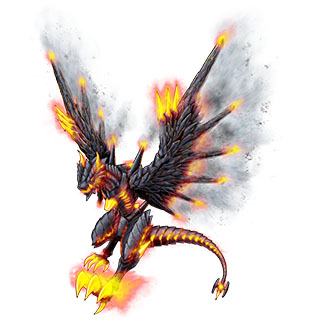 | | |
| --- | --- |
| 日本語 | ラヴォガリータモン |
| English | Lavogaritamon |
| 简体中文 | 熔火加里塔兽 |
| 繁體中文 | 熔火加里塔獸 |
| 한국어 | 라보가리타몬 |
基本资料
等级
完全体
类型
岩龙型
属性
病毒
所属
适应领域
首次登场
2017年7月 手游《数码兽链环》
名字来源
英语【Lava】熔岩; 火山岩
英语【Volcano】火山
英语【La Garita Caldera】拉加里塔火山口
必杀技&得意技
| | | |
| --- | --- | --- |
| 融化炸裂 | Meldyna | メルダイナー |
| 野性爆风 | Wild Blast | ワイルドブラスト |
设定资料
巨大的翅膀让沉重的身体也能轻盈飞行,能以磨练的脚力威严站立的龙型数码兽。被认为潜伏在数码世界内的活火山岩浆层,有种说法认为在火山龙兽附近生息。战斗风格是散布粉尘覆盖敌人,自如操纵着火点爆破。如果敌人移动也会导致着火,所以一旦被粉尘覆盖,敌人就会陷入到粉尘不知何时会爆炸的恐怖当中。
必杀技是口中释放激光状的热线「融化炸裂」,以及拍打粉尘并扩散,造成大爆炸的「野性爆风」。
擁有讓沉重身體能夠輕盈飛行的巨大翅膀,並且能以鍛鍊過的雙腳威風站立的龍型數碼寶貝。一般認為它藏身在數碼世界中的活火山岩漿層裡,另有一說認為它生活在火山龍獸附近。戰鬥方式是散布粉塵覆蓋敵人,自由操縱起火點引發爆炸。敵人若移動也有可能起火,因此一旦被粉塵覆蓋,便註定陷入不知粉塵何時爆炸的恐懼中。
必殺技是從口中釋放雷射狀熱線的『熔解射線』,以及用翅膀拍擊粉塵使之擴散引起大爆炸的『狂風爆破』。
重たい身体も軽々と飛ばせる大きな翼に、鍛えられた脚力で仁王立ちもできる竜型デジモン。デジタルワールド内にある活火山のマグマ層に潜んでいるとされ、一説ではヴォルクドラモンの近くに生息しているのではとされる。戦闘スタイルは粉塵を散らして敵を覆い、発火ポイントを自在に操って爆破する。敵も動けば発火に繋がるため粉塵に覆われたら最後、敵はいつ粉塵が爆破するかの恐怖に陥る。
必殺技は、口からレーザー状の熱線を放つ『メルダイナー』と、粉塵を羽ばたかせ拡散して大爆発させる『ワイルドブラスト』。
A Dragon Digimon that can easily take flight with its large wings regardless of its heavy body and is capable of a daunting-looking stance with its strong legs. It is said to be lurking in a layer of magma in an active volcano in the Digital World. Another legend says that it lives near a Volcdramon. Its battle style of choice is to scatter dust to cover the enemy and freely control each point of explosion, designating where each one hits. As enemies can set off explosions by themselves with even the slightest of movements, they often become overcome with the fear of combustion.
Its special moves are Melding Blaze, in which it unleashes a laser-like heat ray from its mouth, and Wild Blast, where it stirs up dust with its wings and scatters it, causing a large-scale explosion.
무거운 몸체도 가볍게 들어 올리는 커다란 날개에, 단련된 다리 힘으로 장승처럼 우뚝 설 수도 있는 용형 디지몬. 디지털 월드에 있는 활화산의 마그마 층에 숨어 있다고 하며, 들리는 말에 의하면 볼크드라몬 근처에 서식하고 있을지도 모른다고 한다. 전투 스타일은 분진을 흩날려 적에게 덮어씌운 후 발화 포인트를 자유자재로 조종해 폭파시킨다. 움직이면 발화하기 때문에 분진을 뒤집어쓰면 적은 분진이 언제 폭파될지 몰라 공포에 떨게 된다.
필살기는 입에서 레이저 형태의 열선을 발사하는 '메르다이나'와 날갯짓으로 분진을 흩트려 대폭발을 일으키는 '와일드 블래스트'.