新月兽
クレシェモン
Crescemon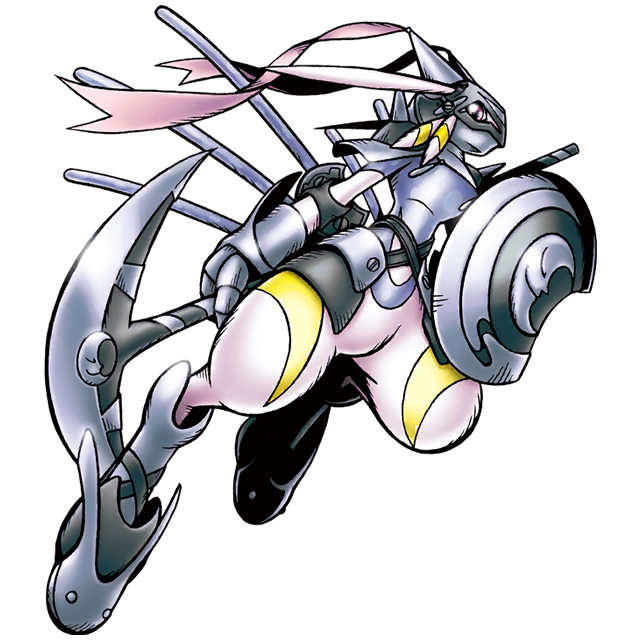 基本资料
| | |
| --- | --- |
| 等级 | 完全体 |
| 类型 | 魔人型 |
| 属性 | 数据 |
| 所属 | |
| 适应领域 | DS |
| 首次登场 | 2007年3月 数码兽物语:月光 |
| 名字来源 | 英语【Crescent】新月,月牙 |
必杀技&得意技
| | | |
| --- | --- | --- |
| 疯狂之舞 | Lunatic Dance | ルナティックダンス |
| 黑暗之矢 | Dark Archery | ダークアーチェリー |
| 寒冰之矢 | Ice Archery | アイスアーチェリー |
设定资料
身体柔软,以优美的动作讨伐敌人的魔人型数码兽。擅长流丽的战斗,据说受到月光的照射后其力量会倍增。必杀技是以舞蹈般的步伐迷惑敌人,抓住时机用双手所持的武器「新月(Nova Luna)」进行斩击的「疯狂之舞」。另外,将「新月」组合成一体,变化成弩的形态。以这种状态还可以施展两种技能,释放冰箭「寒冰之矢」以及黑暗能量的箭「黑暗之矢」。
體態柔軟,能夠以優美動作討伐敵人的魔人型數碼寶貝。擅長流暢華麗的戰鬥,據說只要照到月光,力量就會倍增。必殺技是用舞蹈般的步伐來迷惑敵人並拉近雙方距離,再用雙手所持的武器「新月」進行斬擊的『月亮瞬舞』。另外,兩把「新月」組合起來會變化為有如十字弓般的形態。在這個狀態下,可以使出發射冰箭的『寒冰之箭』,以及發射黑暗能量箭的『暗黑之箭』兩種招式。
体が柔軟で、しなやかな動きで敵を討つ魔人型デジモン。流麗な戦闘を得意とし、月の光を受けるとその力は倍増すると言われている。必殺技は、舞うようなステップで敵を幻惑し、間合いを詰め、両手に持った武器"ノワ・ルーナ(羅:新月)"を使った斬撃『ルナティックダンス』。また、"ノワ・ルーナ"は1つに組み合わせることでボウガンのような形態に変化する。この状態から氷の矢を放つ『アイスアーチェリー』と、闇エネルギーの矢を放つ『ダークアーチェリー』の2つの技を繰り出すことができる。
A Demon Man Digimon with the flexibility to attack its enemies with an acute nimbleness, there is an inherent elegance to its battle style. Its power is said to double upon when exposed to moonlight. Its special move is Lunatic Dance, where it bewitches its enemy with dance-like steps before it draws close and slashes its enemy with its weapon, the Nova Luna, which it wields in each hand. It can also combine the Nova Luna into a single weapon and transform it into a bowgun. In this form, two continuous attacks are made possible: Ice Archery, in which it shoots ice arrows, and Dark Archery, in which it shoots arrows imbued with dark energy.
유연하고 나긋나긋한 몸놀림으로 적을 물리치는 마인형 디지몬. 유려한 전투가 특기이며, 달빛을 받으면 그 힘이 더욱 강해진다고 한다. 필살기는 춤추는 듯한 스텝으로 적을 현혹하면서 다가가 양손의 무기 '노바 루나(라틴어: 초승달)'를 사용해 베는 '루나틱 댄스'. 또한, '노바 루나'는 하나로 합치면 보우건 형태로 변한다. 이 상태에서 얼음 화살을 쏘는 '아이스 아처리'와 어둠의 에너지 화살을 쏘는 '다크 아처리'의 두 기술을 펼칠 수 있다.
Ein Zaubertitan-Digimon, das Gegner mit geschmeidigen Bewegungen niederstreckt. Dieser elegante Kämpfer soll im Mondlicht doppelt so stark sein. Sein Spezialmove "Verrückter Tanz" zieht Gegner mit anmutigen Schritten in seinen Bann. Diese Gelegenheit nutzt es, um ihn mit seinen Nova-Luna-Klingen aufzuschlitzen.