埃癸奥都斯兽:圣
Aegiochusmon: Holy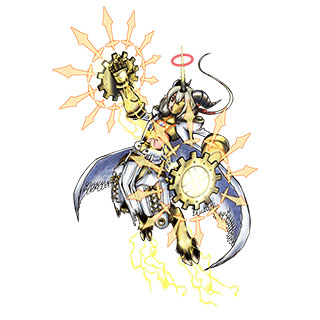 | | |
| --- | --- |
| 日本語 | アイギオテュースモン:ホーリー |
| English | Aegiochusmon: Holy |
| 简体中文 | 埃癸奥都斯兽:圣 |
| 繁體中文 | 埃癸奧都斯獸:聖 |
| 한국어 | 아이기오투스몬: 홀리 |
基本资料
等级
完全体
类型
神人型
属性
疫苗
所属
适应领域
首次登场
2014年3月 手游《数码兽十字军》
名字来源
希腊语【Aegiochus】朱庇特的绰号 [1]
英语【Holy】圣
必杀技&得意技
| | | |
| --- | --- | --- |
| 闪电倾泻 | Lightning Shower | ライトニングシャワー |
| 雷电斩 | Thunder Slash | サンダースラッシュ |
| 环形防御 | Circlet Defense | サークレットディフェンス |
设定资料
以人类的身体为基础,合成各种种族能力的神人型数码兽。据说种族的合成是追求全能这一终极结果,随着环境的变化,其他形态也会发生戏剧性的变化。这个形态是以天使族数据为基础构成的,以胸部的水晶为中心,将体内沉睡的天使族数据包裹全身,如明镜止水般的心清澈透明。从身体里溢出的压倒性的疫苗通过装备在双手的盾,可以自如变换成以短刀为首的武器以及任何病毒、数据都无法通过的防御壁。
必杀技是让无数短刀从天而降讨伐敌人的「闪电倾泻」,以及将闪电连成短刀以鞭子一样的轨迹斩击敌人的「雷电斩」,另外铁壁般的防御壁「环形防御」展开的话,对手的攻击会被给予电击并反弹,是具有反击性质的技能。
以人類的身體為基底,合成了許多種族能力的神人型數碼寶貝。據說種族合成是追求「全能」這種終極狀態的結果。配合環境,其模樣也會有戲劇性的改變。這副模樣是以天使族的數據為基礎所組成,以胸口的水晶為中心,讓沉眠在體內的天使族數據包覆全身,使其心靈清澄得有如明鏡止水。藉著裝備於雙手的盾牌,從身體溢出的壓倒性疫苗能夠自由地轉變為包含小刀在內的種種武器,以及不會放過任何病毒、數據的防禦障壁。
必殺技是讓無數小刀從天而降,擊敗敵人的「閃電傾瀉」,以及將小刀與閃電接在一起,以鞭子般的軌跡對敵人施加斬擊的「雷電劈砍」。此外,還擁有在展開宛如鐵壁的防禦障壁「環形防禦」之後,能將對手的攻擊加上電擊後反射回去的反擊招式。
人間の身体をベースに、様々な種族の能力を合成させた神人型のデジモン。種族の合成は全能という究極を求めた結果と言われており、環境に合わせてその姿は劇的に変化する。この姿は天使族のデータを元に構成されているもので、胸のクリスタルを中心に体内に眠る天使族のデータが全身を包み、明鏡止水のごとく心が澄み切っている。身体から溢れ出る圧倒的なワクチンは両手に装着した盾を通して、短刀を始めとする武器や、いかなるウィルス・データも通さない防御壁など自在に変換できる。
必殺技は無数の短刀を天より降らせ敵を討つ「ライトニングシャワー」と、短刀に稲妻を繋ぎ合わせムチのような軌道で敵に斬撃を与える「サンダースラッシュ」、また鉄壁な防御壁「サークレットディフェンス」が展開されると、相手の攻撃は電撃を加えて跳ね返されるカウンター技も持ち合わせている。
A Deity Digimon that synthesized the abilities of various species, using a human body as its base. This synthesis of species is said to have resulted from the pursuit of the apex known as omnipotence, and Aegiochusmon: Holy's form changes dramatically to match its environment. This holy form is based on the data of Angel-species. Normally this data would lie dormant in its body, centered around the crystal in its chest, but Aegiochusmon: Holy has spread the Angel-species data throughout its body, and its heart is as clear as a pool of reflective water. By using the shields in its hands to channel the overwhelming essence of Vaccine types that wells up within it, it can create either a weapon, such as a short sword, or a defensive barrier that no Virus or Data type can penetrate.
Its special moves include Lightning Shower, which involves attacking foes with a barrage of short swords raining down from the sky, and Thunder Slash, where it wraps lightning around one of its short swords, allowing it to slash foes with the sword as if it were a whip. Finally, it can generate a defensive barrier with Circlet Defense, which repels any attack an enemy may use with an added jolt of electricity. This is a powerful way for it to counter attacks.
인간의 신체에 다양한 종족의 능력을 합성시킨 신인형 디지몬. 종족 합성은 전지전능하다는 궁극을 추구한 결과로 알려져 있다. 환경에 맞춰 모습은 극적으로 변화한다. 그 모습은 천사족의 데이터를 바탕으로 구성된 것으로, 가슴에 있는 크리스탈을 중심으로 체내에 잠든 천사족의 데이터가 온몸을 감싸기에 명경지수와 같이 마음이 맑다. 몸에서 흘러넘치는 압도적인 백신은 양손에 장착된 방패를 통해서 단도를 비롯한 무기와 어떠한 바이러스 데이터도 통하지 않는 방어벽 등 자유자재로 변환할 수 있다.
필살기는 무수히 많은 단도를 하늘에서 내리게 해 적을 없애는 『라이트닝 샤워』와 단도에 번개를 연결해 채찍과 같은 궤도로 적에게 참격을 가하는 『썬더 슬래시』가 있다. 또한 철벽같은 방어벽 『서클렛 디펜스』를 펼쳐 상대의 공격에 전기 충격을 더해서 되돌려주는 반격 기술도 지니고 있다.
亚种或变种
注释
References
主神朱庇特的绰号「Jove Aegiochus」,Jove即Jupiter,意为朱庇特「山羊或神盾埃癸斯持有者」,作为潘神(Aegipan)的父亲。